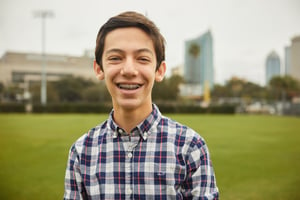 Kai Nelson '23, recently won a 2021 Scholastic Art & Writing Award, which is part of the Alliance for Young Artists and Writers presented by Hillsborough County Public Schools. Kai won the Gold Key Award, which is best in the region for his category (Humor). He also won an American Voices nomination, which means his piece was in the Top 5 of all the entries in all categories, submitted in the region. His submission will now go on to a national competition in March.
Kai submitted a piece he wrote in his English class, expanding on it a bit to meet the word count requirement for the competition. "I don't think of myself as a writer," he says, "but I like satire and comedy, and I had to do the English assignment anyway. I wrote a political satire about an alternative to the presidential debates. I was pretty surprised to win!" Kai's laugh-out-loud piece imagined what it would be like if the two presidential candidates had a push-up contest, instead of a verbal debate.
---
Nicole Gonzalez '21, a prolific writer who has been writing since elementary school, received a Silver Key Award in the category of Personal Essay and Memoir for a piece titled "Then I Wrote."
Her piece was inspired by an assignment she had in English 10 to create a poetry portfolio of original work. "Up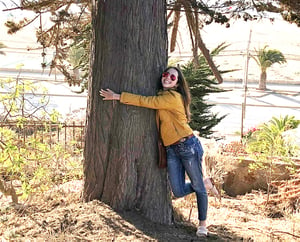 until that point, I was not a big fan of poetry," Nicole says, "so I was dreading having to come up with what, to me, were meaningless poems for my teacher to read."
But fate had other plans. Poet Richard Blanco was a guest speaker for the school at the same time English 10 students were planning their portfolios, and hearing about what inspired him to write ignited a spark in Nicole that she didn't even know she had. "I was able to proudly write my first poetry pieces, ones with my own meaning, that I would then go on to share with the world," she says. Those poetry pieces were submitted to Scholastic in 2019-20 and ended up winning three Silver Key Awards.
In "Then I Wrote", Nicole takes readers through her journey to discovering the true meaning of poetry in her personal essay. From reflecting on her Cuban heritage to deciphering what it means to truly understand the genre that is poetry, she learned a lot, then put her heart on the page.
"Too often the creative process of an author gets overlooked, and I wanted to give it time to shine in this Scholastic entry," Nicole says. She hopes she can serve as inspiration to both writers and artists alike to take one step closer toward putting beautiful work out into the world.
---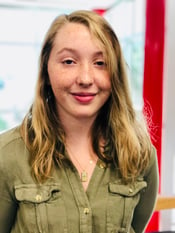 Rachel Rizzi '21, wrote a short story fantasy titled "A Cruel Reflection". "I have always loved reading and writing," Rachel says, "and with it being my last [year here], I thought it was time to finally enter a writing competition."
Rachel loves to read about mythical creatures and spies, so writing the short story and diving into a fantasy world was, for her, "a nice break from this strange year." She often has ideas "floating in her head" and this one became "something I could focus on, but not have to worry about," she says. Her short story won a Gold Key Award in the category of Science Fiction and Fantasy as well as an American Voices nomination, which means her piece will now go on to a national competition for scholarship consideration in March.
---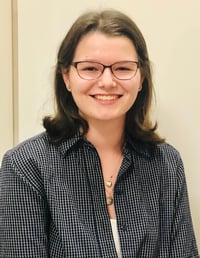 Emma Lefferts '23 received an Honorable Mention in the Scholastic Art & Writing Awards competition for her fictional short story, "The Politics of Phi Zeta Beta". In her story, a sorority goes on a spring break cruise as tensions build between some of the members.
"Writing is my thing," Emma says, "so I'm always working on something. The inspiration for this was that I wanted to portray a sorority girl in a much different light, and I'm a big fan of cruises so that felt like a fun setting." She was reluctant to give any specific spoilers for the story, so fans will have to wait until she's a published author to see what happens. "I'd love to follow this as a career and write novels in the future," she says.
---
Since 1923, the Scholastic Art & Writing Awards have recognized some of America's most celebrated artists and writers while they were teenagers, including: Tschabalala Self, Stephen King, Kay WalkingStick, Charles White, Joyce Carol Oates, and Andy Warhol.
The regional awards reception and ceremony will be held at the Scarfone/Hartley Gallery, University of Tampa on March 5, 2021.