The senior tradition of writing a six-word memoir on the giant whiteboard in the Student Center was slightly delayed this year, thanks to COVID restrictions, but on the last day of school prior to winter break, seniors finally got the opportunity to share their six-word memoirs.
Six-word memoirs are a twist on the form that, according to literary lore, Hemingway started when challenged in a bar to write a whole novel in just six words. He did so with this: For sale: baby shoes, never worn.
The six-word constraint forces seniors to figure out the essence of who they are and what matters most, though it can also be an opportunity to share inside jokes or be humorous. A compelling six-word memoir also provokes three more important words from those who receive it: Tell me more.
Click the image below to watch a time lapse of members of the Class of 2021 writing their six-word memoirs on the Student Center wall.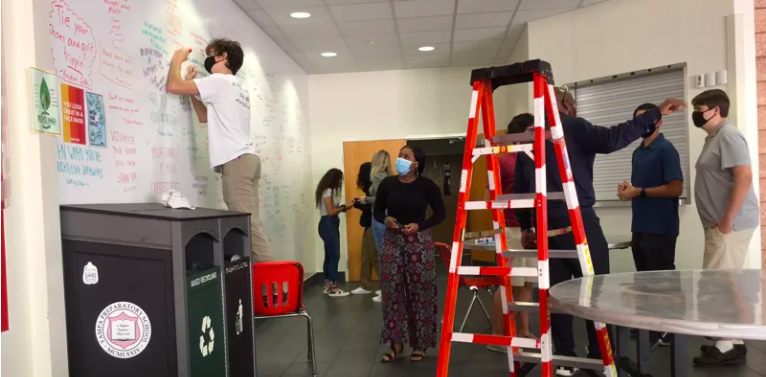 Read the six-word memoirs:
Failure is the best path to success
Life would be meaningless without Muzyk
No matter what, it's not the end of the world
Even when you're scared, live anyways
"Get busy livin' or get busy dyin'"
You could die or live forever, do whatever.
Temporary pain leads to a lifelong of happiness
Pain is temporary, swag is forever

Leave the world better than you found it
There is no end, only new beginnings
Old ways don't open new doors
Live this great life to the fullest
Live life to the fullest. Start now.
Live like there is no tomorrow

Don't let life pass you by. Catch it.
Life's too short to care what others think
Life's a roller coaster. Enjoy it while it lasts

Whoever said senior year was easy wasn't trying
I forgot this was due today
Wait, we're doing this today?
I didn't know what to write

Visualize your higher self, then SHOW UP!
I see dog. I pet dog.
At least we're all under the same moon.

Falling feels just like flying, briefly
Give back today, receive more tomorrow
Give what you want to receive
Be the reason someone believes in good people
Still waters run deep
Changes aren't permanent but change is

Turn your dreams into goals and goals into reality
Dream it. Believe it. Do it.
I'm dead, I'm alive but I'm dead
Don't let the flame die out
Don't run away, confront your fears

I'm on the pursuit of happiness

Every thing happens for a reason

Be comfortable in the unknown
It will all make sense one day

The night is still young
"Happiness is often a rebound from hard work"
Always be sure to work hard
Hard work will always pay off!
The ceiling is the roof
The Dan Zone

Tie your shoes and quit trippin'
They call me Ranch cause I be dressin'
Why follow when you can lead
Time is precious waste it wisely
Those with faith have no fear
Your energy is your greatest asset
Crusin' down the street in my 64
Everyday above ground is a great day. Remember that
It's time for my afternoon nap
Judge me by my size, do you?
Good things come in small packages!
"May be crazy, that don't make me wrong"
You'll never find happiness in comparison
Brains can only get you so far
Through adversity we find our better self
Grow through what you go through
"After the storm's when the flowers bloom"
There are flowers under my thorns
Never look back always look forward
Success needs happiness to truly survive
Don't let others determine who you are!
Stop overthinking just do it!
Embrace opportunities that come your way
Don't forget to live shamelessly
Good things take time. Be patient.
Regret what you DID not what you DIDN'T
Better an "oops" than a "what if?"

Even when I'm wrong. I am RIGHT!
Everything you fear is going to end
Are you the VOICE or the ECHO?
I give this year a "D" for delightful
But will it matter in 5 years?
You win some you lose some
Fight with absolute conviction and passion
I don't get mad I get money
Everything is possible even the Impossible
2020? Nah that's a dipole moment.

Be happy with the bare minimum
Remember to celebrate the small victories
"Cheaters never succeed," well here I am.

Listen to the sound of the earth turning
Someday we will all evaporate together

Don't be a tomato, you won't ever ketchup
Just because toucan doesn't mean tou-should

Even in tough times, look ahead
I do not regret anything, yet…
Hey, this is a terrible idea, but...
Saw inception. Or at least I dreamt it.
It's the Zoom classes for me
It really do be like that