Wyatt Bedke '22 began constructing benches early in July, 2020, as part of his Eagle Scout Project to promote mental health awareness in association with the SpeakUp 5K, part of the Cameron K. Gallagher Foundation which raises awareness of teen mental health to erase the stigma.
"I initially had no idea the project would take as long as it did--six months in total," he says, "but it was very worthwhile to me. Mental health is an important matter given that there is a global pandemic, and the benches serve to remind us all to keep our heads up despite any problems we face nowadays."

Bedke built the benches entirely from scratch, spending several weeks on the painting alone. "The level of concentration and detail needed to make the logos look professional was definitely more than I expected, but I am pleased with how the final product turned out," he says.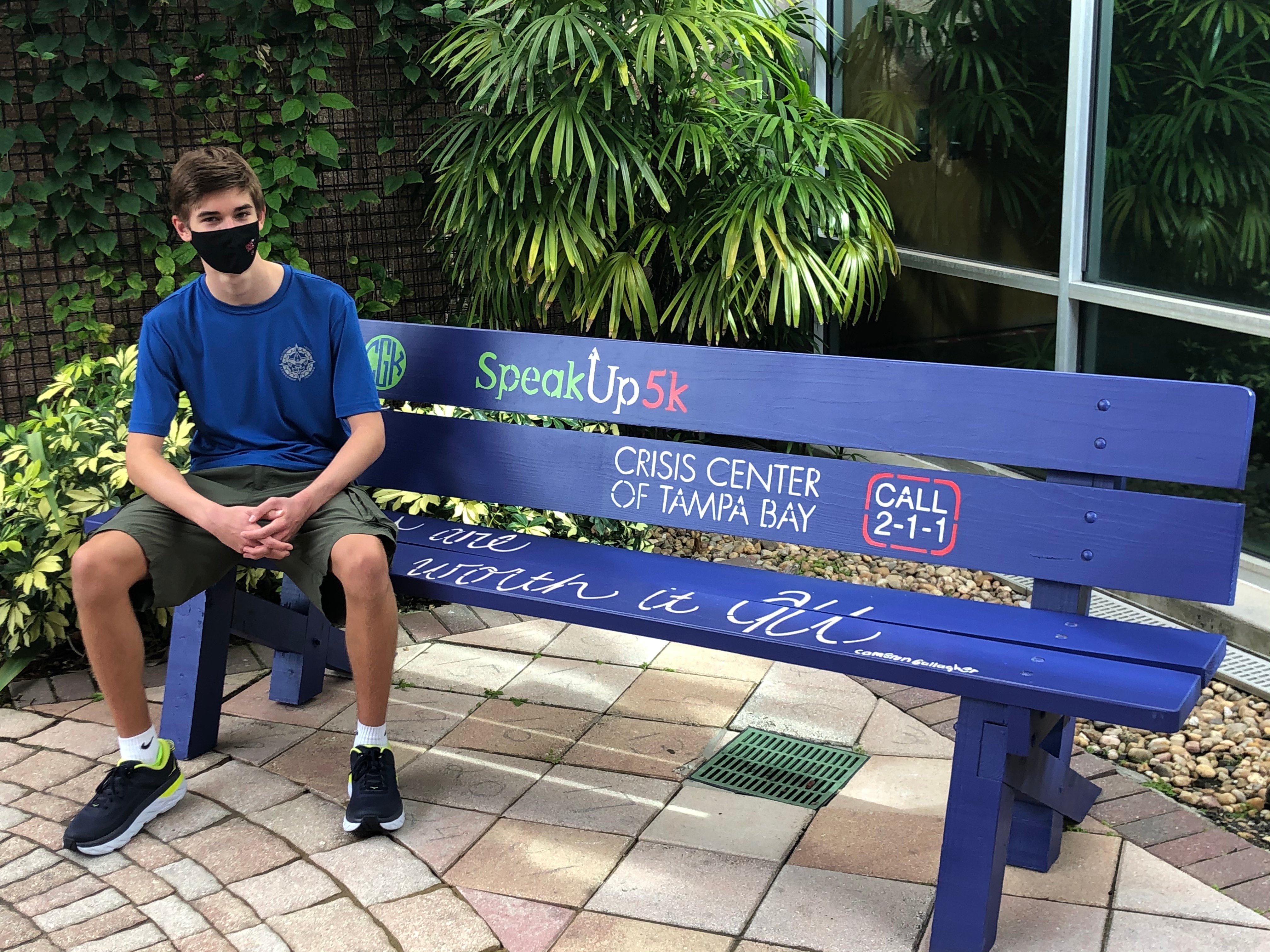 SpeakUp's mission is to end the stigma associated with mental health issues, and Bedke hopes want to provide help to those who are suffering. "Back when I was in middle school," he said, "I actually lost a friend to suicide. Experiencing this tragedy for myself was difficult, but it inspired me to make a difference by joining the organization."
As a current SpeakUp student ambassador, Bedke sees how people are being internally torn apart by the negative mindsets they constantly live with more than ever before. It is an issue that has become more prevalent in recent times, especially due to COVID-19, and "I want to reverse this trend in any way I can," he says. "The best way to develop an optimistic mentality is to actively seek help, and I hope my benches encourage Prep students to do so if they are struggling." He wants his benches to remind students to focus more on the positive aspects of their lives rather than the negative ones.
"Too many people nowadays simply create reasons to worry or feel frustrated, so much so that it may just be how our brains are naturally wired. We can change this with effort, though. Whenever someone uses a bench, I hope they will take a moment to reflect on their mood and think about anything that makes them appreciate all the great things about them. I also want them to take initiative by interacting with whoever they know who may be feeling down and help them find reasons to be happier as well," he says.
Bedke plans to create another bench for Dominion Payroll (the main SpeakUp 5K sponsor).
---
UPDATE (3.2.21)
Bedke completed and donated a bench to the Glazer Children's Museum. It is located in the Family Play area by a window on Level 2. There is a sign that goes with the bench to explain the mission.