During the 2020-2021 school year, our library (and the way our students check out books) looks a little bit different. To help manage social distancing throughout the school, one area of our library is serving as an Upper School U.S. history classroom, while in the back area we're storing excess furniture that can't fit in our spaces. Because of this, students are only allowed to come to the library to check out books, study and use the printer before school, during passing periods and after school. Since access to the physical space of the library is more limited this year, I've been working on finding ways to bring the library to our students.
Sora eBooks and Audiobooks
Before COVID-19 hit, the process was already in the works to bring the Sora eBook and audiobook platform (the K-12 version of Overdrive) to Tampa Prep. We launched in April, and students (especially our middle schoolers) have embraced it. The ease of being able to check out an eBook on your iPad no matter where you are or what time it is has made access to our library materials so much easier, especially when individual students are only on campus two days a week. Since the beginning of this school year, students have been checking out an average of 75 eBooks a month and that number continues to grow. We have all fifteen of our Sunshine State Young Readers Award (SSYRA) books available on Sora, and we've seen lots of students checking these out. The SSYRA books are the books used for the Battle of the Books competition in May, so we're looking forward to fielding a great team.
Classroom Curbside & UberReads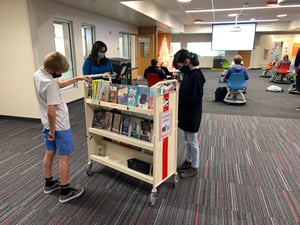 Since it's a little harder to get to the library on our in-person days, I've started up a program to help bring the library (in a smaller form) to our students everyday during lunch. I bring a cart of books, dubbed the Classroom Curbside Cart, down to our middle school hubs during lunch everyday. The cart includes all our SSYRA titles, new releases, and a selection of other popular titles. I bring my laptop and a mobile scanner, so students can check out books from the cart and return books. This also gives me a chance to chat with students about what they're reading and get to know them. Some of our 6th graders have never seen the physical library space, but now they can know who their librarian is.
In conjunction with the cart, I also deliver books through a program called UberReads (a play on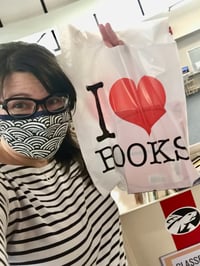 the UberEats app). Students can use our Destiny Discover catalog to search for books we have available in the library and place a hold on them (here's a video that shows how to place a hold). Once the hold is placed, I pull the books, place them in a bag, and deliver them to the student's classroom during lunch on their next in-person day.
Classroom visits
I've been visiting a lot of classes this year to help students learn how to research using our databases, create citations and avoid plagiarism. I've visited middle school science classes to show them how to find resources on genetic disorders, junior English classes to help them find primary sources for their Decades paper and our 9th grade Transitions classes to show them how to find multiple perspectives on current issues. To help students with research projects, I've also met with students one-on-one (in-person or via Zoom) to help them work on search strategies for finding effective resources for their papers. I visited every middle school language arts class to talk about our Sunshine State Young Readers program, Battle of the Books, how to use the catalog and how to access our Sora eBooks collection.
This school year certainly looks very different from previous years. But our library and librarian are still here for our students. We have slightly more limited hours, sometimes we're virtual, sometimes on a book cart, but we're still here. And we're finding joy in reading and learning along the way.