Alumna Bailey Carraway '12, recently returned to Tampa Prep to speak to students about her experience working in a Syrian refugee camp.
Bailey attended Oxford University, where she received her Masters in Modern Middle Eastern Studies. After graduation, Bailey spent four months working at a refugee camp in Lebanon.
During the presentation, Bailey asked students what their knowledge was of the current situation in Lebanon and around the world. She explained the education, jobs and housing experience for Syrian refugees.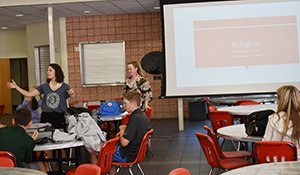 In September, Bailey will start her next adventure. She is joining the Peace Corps where she will be stationed in Morocco.
The main takeaways from Bailey's presentation were that developing countries bear the brunt of the refugees' crisis, and refugee aid is comprised of a patchwork quilt of support. Her presentation was extremely eye-opening and left students with a sense of gratitude for the lives we live in the United States and at Tampa Prep.