The Boys and Girls Golf teams are both advancing to States after wining the Regional tournament.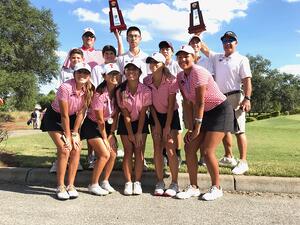 This is first the time since 2006 that the Boys Golf team is going to States. At Regionals, they shot their lowest score of the season, 309, to win the tournament. Carson Yonker '20 and Julian Habib '23 lead the charge each shooting rounds of 75. Qi Liu '20 fired a round of 77 and Jackson Rohner '23 chipped in with a 82.
The Tampa Prep Girls Golf team won the regional tournament for the 4th consecutive year, and will be making their 5th appearance in the state tournament in the last 5 years.
The Terrapins won the region by an impressive 27 shots. The team was lead by Helena Noel '21, who fired a 74, Lilly Berry '20 who shot a round of 78, Julie Zhang '19 who chipped in with a 79, and Sophia Bittner '20 who rounded out the scoring with a season low 92.
This is the first time in school history that both the boys and girls teams won regional titles in the same year. Both teams will compete at Mission Inn for the state tournament on October 30 and 31.