I arrived at The Hall on Franklin an hour early for my morning interview with Anddrikk Frazier '94, expecting to get a coffee, do a little work and privately prep before the meeting. Instead, what I found was the 43-year-old President and CEO of Integral Energy already there, sitting on a sunlit, tan leather executive couch, engaged in another meeting that started before ours.
Such is the life of a modern-day entrepreneur: juggling interviews, maximizing out-of-office time, rising with the sun and doing it all with a smile. Frazier will tell you that finding balance as a husband, father of four and business owner isn't easy, but somehow he makes it look so.
His resolve, he says, is derived from his parents, both first generation college students determined to give their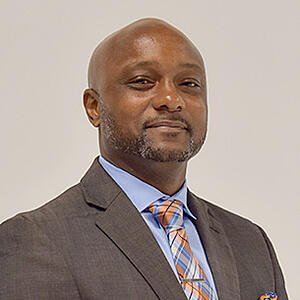 children every opportunity to be successful. "They really did everything they could for us when it came to education," he says. "They'd drive 25 minutes out of town to get us to a bus to get to school, or get a second job to cover costs." These sacrifices landed Frazier at Bayshore Christian school but, "I finally ran out of classes to take at Bayshore," he says. "They wanted me to do dual enrollment my senior year, but I wasn't feeling being on a college campus for half of every day."
Thus, Frazier arrived at Tampa Prep as a senior. Moving to a new school for senior year might seem like a daring decision, but if there's one piece of advice Frazier would give future Tampa Prep students, it's this: be bold.
"Taking a step outside your comfort zone is the only way to open up the doors of opportunity," he says. "I'm a kid from Clair Mel, Florida. It can be intimidating for someone from an inner city environment to go to school with kids from a very different place. I was one of four or five black people on campus in 1994. It's not like it is now," Frazier says.
Frazier applauds the path for racial and socioeconomic diversity at the school set by former Heads of School Susan Grady and Gordon MacLeod. "What separates us from other high performing private schools is our open arms," he says. "We are an incubator for growth that allows you to be who you are, express yourself, not be judged and learn in a different, unconventional setting."
He continued, "Tampa Prep has created an atmosphere where it's tough to tell social status or economic backgrounds while on campus, and that's pretty special." Currently, the Tampa Prep student population is 43% Caucasian, 8% Black, 13% Hispanic/Latino, 13% Indian/Asian/Pacific Islander and 23% Other/Mixed Race. "There's no other private school that offers this kind of diversity, not just in Tampa Bay, but in Florida. Actually, anywhere south of Atlanta," he says.
A large part of the confidence and comfort he immediately felt at Tampa Prep came from Associate Head of School, Head of the Middle School and FHSAA Coach Hall of Famer Joe Fenlon who, Frazier says, has been the most influential person for him at Tampa Prep. Their relationship began when Frazier was 14 and played on a travel basketball team with Fenlon.
"That man's been a part of my life for almost 30 years," he says. "No matter what time of day, by phone call, email or text, he's been there. Unconditionally, too. Even during the entire transfer process my senior year, we sat down and he had a pretty adult conversation with me, a teenager. He wanted to make sure I put myself in the best position for opportunity as a student athlete. He's been at my wedding, both my parents' funerals and the birth of Aja (one of Frazier's four daughters, and a current Tampa Prep sophomore)."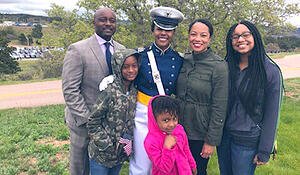 From Tampa Prep, Frazier went on to receive a B.S. in Engineering from USF, where he also played three years of basketball. He worked 15 years for top tier companies in the field of energy providing services in power production, power station construction, natural gas commodities and business development for alternative fuels. In 2015, he decided to go out on his own and founded Integral Energy, which now has 12 employees and independent contractors as well as partnerships with organizations like the Port of Tampa.
Busy as he is, he still finds time to sit on several Boards throughout the community, including Tampa Prep's. "The thing that I have that's most valuable is my time, so I joined [Tampa Prep's] Board of Trustees to support what Kevin [Plummer, Head of School] has going on. But also, I feel like I owe the School a lot."
Whatever Frazier feels that he owes the School, he's paying it back with interest. "I don't think I've strayed from the school since I graduated," he jokes. Whether it was being a substitute teacher, working with Coach Fenlon and the basketball team, serving on alumni committees or now, sitting on the Board of Trustees and sending his own children to Prep, Frazier has found many ways to give back. "I'd like to help other alumni find whatever that tie to Tampa Prep is for them, so the current students can see the connection from where they are now to where they will one day go."
Considering that connection between past and future, I asked Frazier, "If you could change one decision you've made over the years, what would it be?" After a moment of reflection he says, "Even if I re-did things, I wouldn't want my path to change. Everything we do--good, bad or indifferent--helps us to be where we are now." He is not a person who believes in failures.
"You may come up short and not achieve your goal, but everything is a lesson learned," he says. Then he admits with a smile, "But if I had to re-do one thing, I wish I would've taken more shots in the 1994 [Boys Varsity Basketball] Regional Semifinal that we lost my senior year at Tampa Prep."