All through elementary and middle school, Pedro Lima '14 made monthly visits to the parks at Walt Disney World in Orlando.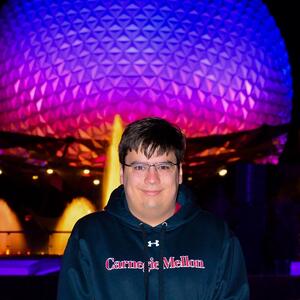 "It was a significant part of my childhood," he says.
Now, he is working alongside some of the people who designed the rides he loved as a kid as a ride control software engineering intern at Disney Imagineering in California.
Lima began interning with Disney his junior year of undergrad at Carnegie Mellon University, where he was studying electrical and computer engineering. As he continues to intern with the Imagineers while also pursuing a master's at Carnegie, he often finds himself bouncing between coasts.
But Lima could not be more excited to work with some of the most cutting-edge technology and experienced engineers.
"I've been able to work on projects that are very much hyped," he said, being careful not give too much away. "In other words, things that people are going to be looking forward to in the future."
While at Tampa Prep, Lima was interested in tech theater and TPTV his freshman and sophomore year. He had always viewed solving technical problems as a creative endeavor, but it wasn't until his math and science teachers encouraged him to take a look at what the new robotics and STEM programs had to offer that he discovered engineering as a perfect outlet for his creativity.
"It was a good push because it motivated me for the rest of my career," he says. "I was glad that Prep did that so early, because without that push from Prep, I would not have fully engaged in engineering. It was sort of the jump start to the whole process."
STEM Instructor KK Quah said even though Lima first started taking STEM courses and working with the robotics team as a junior, he played an important role in the program. His senior year, Lima and his teammates Andre Ruas'14 and Mitchell Overfield '14, won the Excellence Award VEX Robotics State Competition, the highest award given.
"I'm glad he found engineering," says Quah. "I think that is where he is really going to shine, and he is shining,"But Quah adds that Lima is just one example of the STEM and robotics programs benefiting students.
"There are many students who have gone on from this program and done fantastic things as well and students who come back and say this program has helped them in college," he says.
Lima hopes to continue his work with Disney Imagineering, and enjoyed being behind the scenes with other passionate engineers on projects that will bring joy to thousands of park guests.
"It's something you would dream of going to the parks as a child," he says. "I always wondered "how did they do this?" And being one of the people creating experiences for future guests is very enjoyable."