Each year the English Department partners with a local bookstore to host a speaker for both Tampa Prep and Tampa Bay community.
This year, the English Department welcomed Gareth Hinds, creator of several critically-acclaimed graphic novels based on literary classics.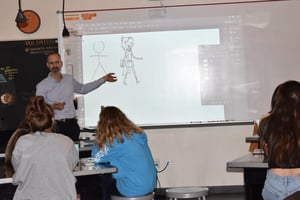 Gareth Hinds is a recipient of the Boston Public Library's "Literary Lights for Children" award and his work can be seen in the Society of Illustrators, the New York Historical Society and in over a dozen published video games. Last Thursday, in partnership with Inkwood bookstore, Mr. Hinds spoke at Tampa Prep about his career as a graphic novelist.
On Friday, Mr. Hinds spent the day at Prep working with both our English and Art students. He did two interactive workshops with Middle School Art and National Honors Art Society students. He finished his day at Prep by having lunch with a group of our students.