Dennis Facciolo, Director of Admissions and Enrollment Management at Tampa Prep, was recently recognized by The Enrollment Management Association for his significant contributions to the field of admission.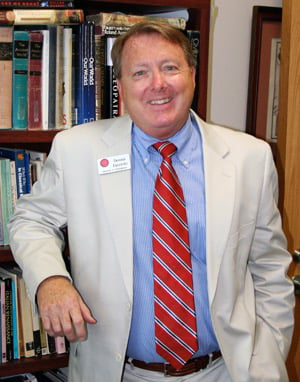 "He has helped guide and evolve the way admission has been done for more than 40 years, contributing his talents as an EMA member and a member of our Admission Leadership Council," Heather Hoerle, executive director of The Enrollment Management Association said. "Dennis is a mentor to many in our community."
Facciolo started at Prep in 1991 when he was brought on board to help start the Middle School. Over the past 27 years, he has worked to ensure inclusivity and a diverse student body at the School.
"Courageously, with vision, creativity and innovation as his tools, he moved his family to Tampa to hoist a new program out of thin air," Head of School Kevin Plummer said at the award ceremony, reflecting on Facciolo's work at Prep. "He hired a new faculty, trained and entire school community and with a shear force of will created something special truly special. Today, we have a middle school of more than 200 students that rests on the philosophical, experiential and intellectual foundation he created."
Facciolo is also a founding trustee at Academy Prep, a school serving students who qualify for need-based scholarships, and an active advocate within the Florida Council of Independent Schools.
In accepting the award, Facciolo emphasized his passion for education and offered his philosophy on why educators are so inspired and dedicated in their work.
"The examples we set and the gifts we offer create a space, a possibility," he said. "We show others how to do things well, with attention and purpose and love."