Hospital visits are far from exciting for most, but students in Tampa Prep's Medical Explorers Club might argue otherwise.
Last week, 27 students from the club were immersed in the fast-paced world of medical professionals during a Day of Learning at Tampa General Hospital. Students spent the day guided through a mock emergency involving a bicyclist.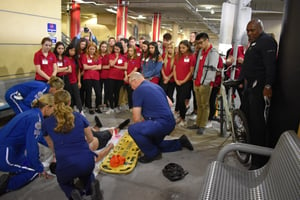 Students spent their day traveling to different areas of the hospital to help take care of their fictional patient, Curtis. They started with TGH's Aeromed Flight Crew arriving on the scene of the accident.
Students split into groups to practice process and procedures, such as securing the patient to a stretcher and intubation. Throughout the day, students:
scrubbed in to see an emergency operating room
visited the intensive care unit
practiced CPR compressions
completed drug calculations
learned how to draw blood
learned how to put an IV into a patient
properly administer medications through an IV drip.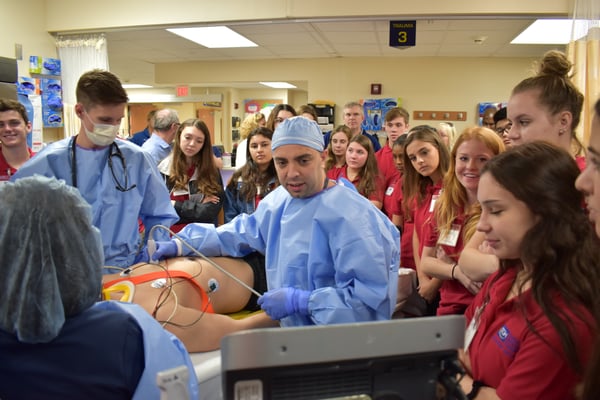 Trauma Performance Improvement Coordinator Brooke Bull, one of the TGH staff guiding students, was happy to hear so many of questions from the prospective medical professionals. "I can see a lot of interest here, which just makes me excited," she said.
After taking care of Curtis, students completed the Stop the Bleed, Bleeding Control Basic v. 1.0 certification course. They learned how to properly control bleeding as a bystander before a professional arrives.
Their day ended with an exciting call that the group would be able to travel to TGH's helicopter pad to get an up-close look at an emergency response helicopter.
Director of the Upper School Carl Carlson gave credit to the students in the Medical Explorers Club for their initiative and enthusiasm in organizing the day. "We let the kids try to own this as much as we can," he said, noting the club's success.
The Day of Learning at TGH was designed specifically for Prep students as a collaboration between the School and hospital, and is the first time TGH has hosted high school students in such a context.
The Prep community looks forward to continuing this event with TGH and bringing the best to our students! Click here to see more pictures from their day.