CONGRATULATIONS to Paige Rodriguez '22 who has broken two girls hurdles records set in 1985 and 2016. Before Rodriguez cut almost two seconds off the 300 hurdles record, it was only broken twice in the last 36 years.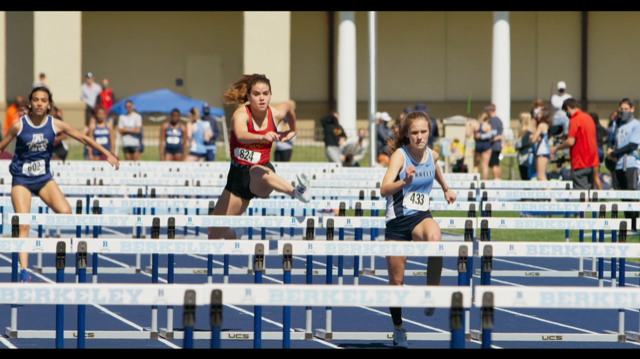 | | | | |
| --- | --- | --- | --- |
| ATHLETE | EVENT | TIME | DATE OF RECORD |
| Lori Koletic | 100 Hurdles | 16.3 | 1985 |
| Lori Koletic | 300 Hurdles | 49.4 | 1984 |
| Emma Goltermann | 300 Hurdles | 49.39 | 2013 |
| Alyssa Moore | 300 Hurdles | 49.02 | 2016 |
| Paige Rodriguez | 100 Hurdles | 16.05 | 2021 |
| Paige Rodriguez | 300 Hurdles | 47.88 | 2021 |
Lori Koletic '85, the original record-holder for 100 hurdles, was a three-sport athlete at Prep, playing volleyball, basketball, and track). She was originally not at all interested in hurdles until her dad, who ran hurdles at Ohio University, pushed her to try it. Once she found her stride, she wished she had started sooner.
While on campus, Koletic was happy to reminisce about her track accomplishments from back in the day, and found it hard to believe her records had stood for so long. "I still have a scar above my knee from hitting a hurdle when I set the 100s record," she said.
Rodriguez's interest in hurdles stemmed from a vastly different source: her experience with horse jumping. Hurdles felt like a familiar, obvious event choice and a way to combine her love of running and horse-jumping. Both Rodriguez and Koletic --who recently met at Prep to celebrate the record--agreed that the events are also appealing because they require technique in addition to speed, unlike some of the other running events.
| | |
| --- | --- |
| Paige Rodriguez '22 meets Lori Koletic '85 after beating her decades-long hurdles record. | Track Coaches Ryan Clements and Heidi Sabean with Rodriguez and Koletic. |
Ryan Clements, Dean of Students and one of Rodriguez's middle school and former head coaches, said, "I knew from the time Paige started running track in middle school that she would break records."
He and Heidi Sabean, Spanish teacher and Track & Field Head Coach, both praised her perseverance, and are excited that she still has another year to compete for Prep. The track team is moving into post-season soon, with hopes to compete in the state meet on May 8. Koletic will be following Rodriguez's progress with interest.
ADVICE FOR FUTURE ATHLETES
Koletic: Figure out and learn how to run your own race. This is advice I received and still use today not just for sports, but for life.
Rodriguez: Don't be afraid to put yourself out there. I'm still learning how to put this into practice, but embracing the idea that failure is part of the learning process has helped me achieve a lot so far.