Throughout the month of July, while the rest of the world quarantined and caught up on Netflix, Tampa Prep's Robotics students were busy building and assembling a robot for the MacDill Air Force base (SOFIC) Challenge. Our team is one of only eight teams in the state of Florida that were chosen to be part of Phase I of this challenge. Cash prizes are awarded for the top three winning teams ($5K, $3K, $1K).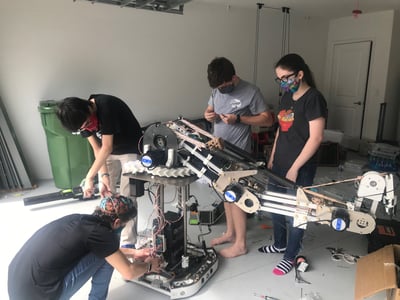 Robotics teacher KK Quah has been supporting the team throughout the summer by ordering parts and allowing them to come to his classroom (two at a time, masked, and keeping properly distanced) to use the equipment for sanding, grinding, and cutting metal parts from CNC.
The goal of the challenge is to build an arm with sensors that can detect the presence of a person. The arm must be able to reach down into a box of 20 mugs, pull one out and hand it to a person.
Eleven students in total worked on the robot, eight of which helped in CAD. Students 3D printed parts of the arm with no less than four 3D printers. Once the robot was completed, only five students were allowed into the room with Quah and three judge panelists. The students who presented for the SOFIC judges were Carl Bertolino '20, Adam Thompson '21, Ryan Kelly '22, Abby Mansour '22, and Elise Bertolino '24 did extremely well. The other teammates were Tim Calco '21, Alex Lacy '22, Johann Vennink '21 and Hailley Siswanto '23.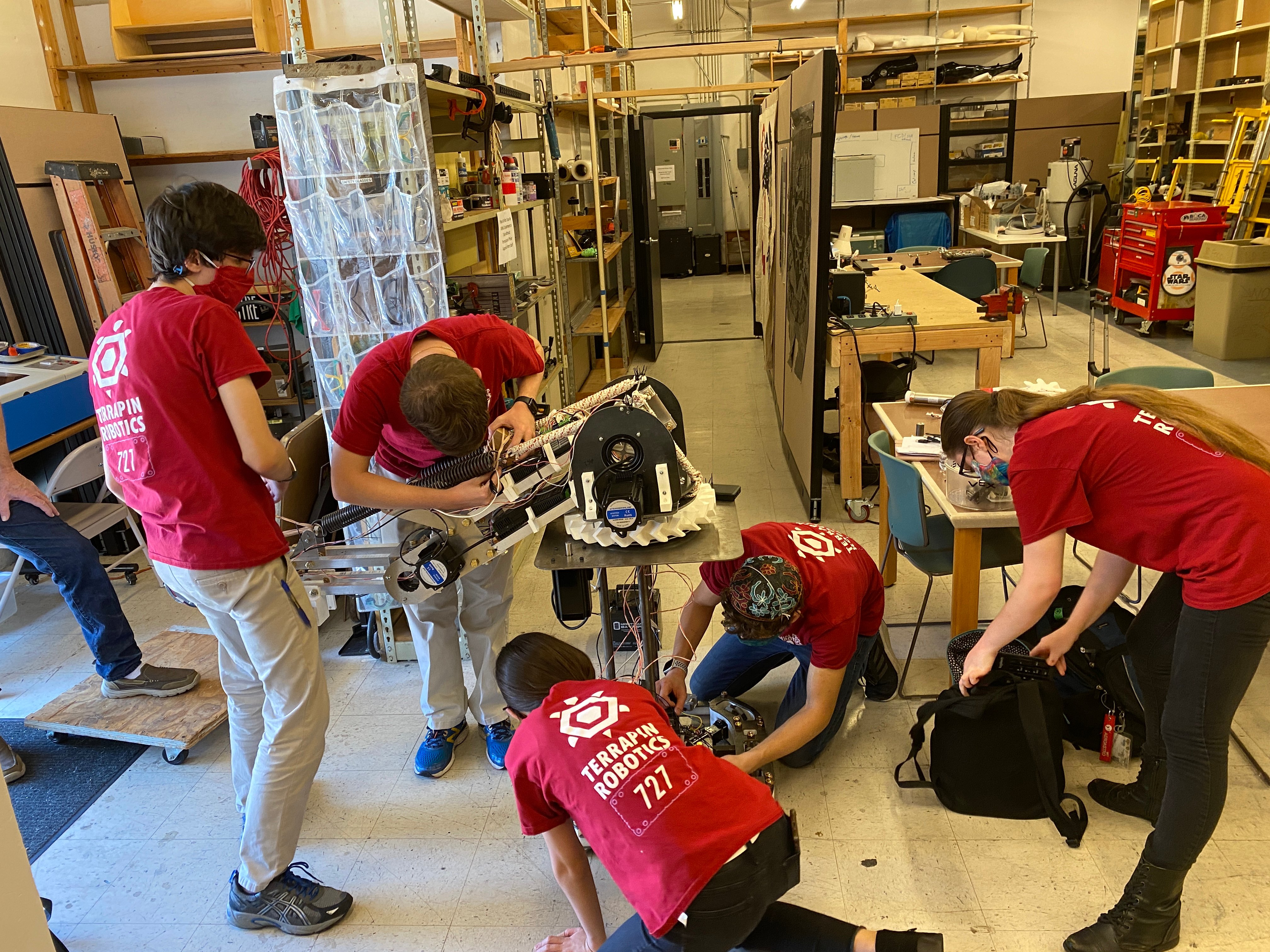 "I am proud not just of their substance, but their poise in fielding the questions and the tremendous amount of effort they put into the robot," said Quah.
The robot is about four feet tall and has an arm that extends out over six feet with a tripod end effector (one joke was that the robot can social distance). AmRoc, which hosted the event, had everything spaced out so that the presenters and four judges were properly distanced and masked.
A few of the judge interactions from the presentation:
Judge: How much time did you spend on this robot arm?
Adam T.: In the last 24 hours? 24 hours! Seriously, we worked on it over the last month.
MacDill Air Force Base Judge: I have been in meetings with a lot of engineers and smart people, and all of you here can certainly stand among them. This is a very impressive robot.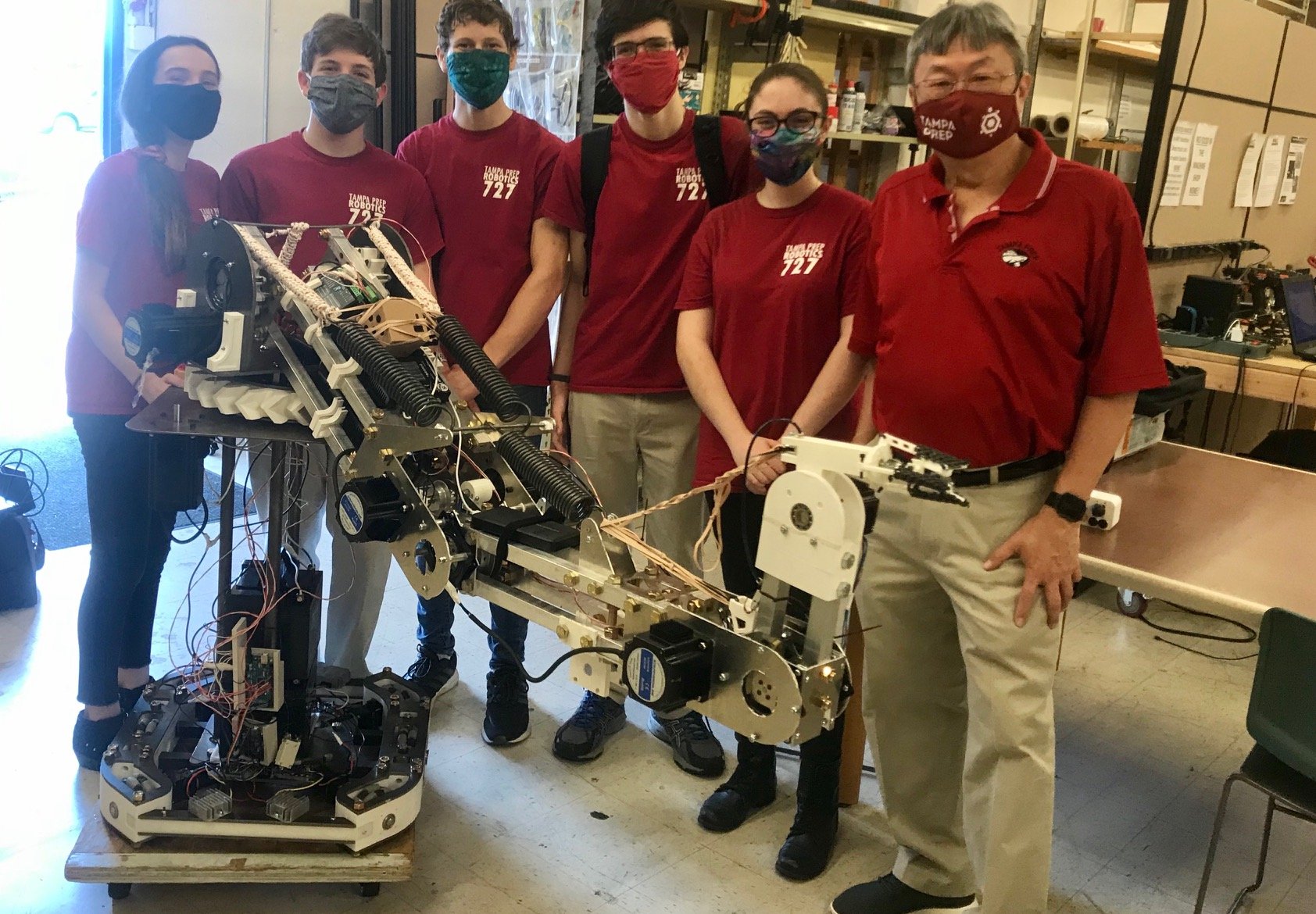 Judge: How did you go about the design process?
Carl B.: We had a team of 11 brainstorm ideas. We narrowed them down, and then started sketching and talking through the design. Finally, we put more time on making detailed CAD parts of the design and understanding how many parts we needed, which was 200 parts.
Judge: That is exactly how a team should go about designing. Time eventually converts to money, so time spent on proper design on the front end is time well spent.