On Friday, February 12, 2021, senior STEM students went on a field trip to USF Health CAMLS (Center For Advanced Medical Learning And Simulation). Ms. Colleen Riener, Interim Director of Education at CAMLS, and Mr. Paul Aryres, Director of Business Development and Marketing (who also happens to be a father of four Tampa Prep alumni), collaborated with Tampa Prep STEM Concentration Chair Suzanne Beekman to design a field trip curriculum that would give the STEM students a unique opportunity to see different applications of engineering, technology and science.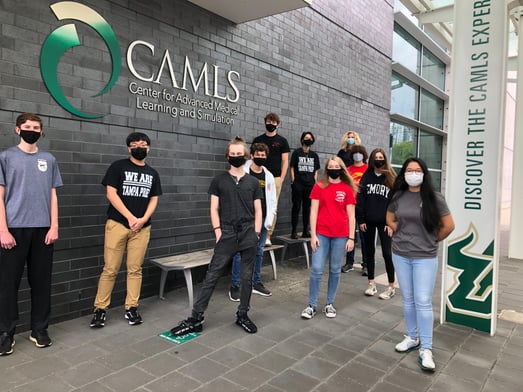 The students were introduced to CAMLS and split into three different training simulation activities that are used to teach/train healthcare professionals. They rotated through each of the activities throughout the day.
Rachel Rizzi '21 said, "The trip was unlike anything I have seen before. I loved learning how technology is used in ways I never imagined to help improve the medical field. Also, watching how mannequins--built with the latest technology--can simulate medical emergencies was amazing and very entertaining. "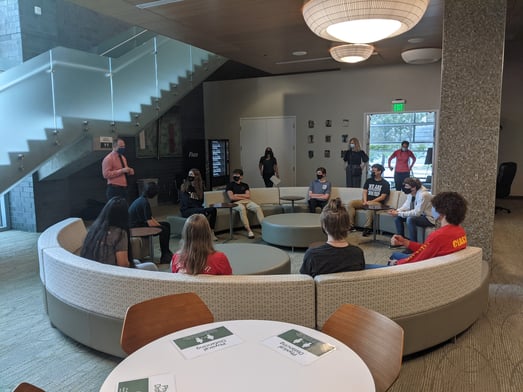 STATION 1
Shawn Taber, Simulation Specialist II, talked through The CRNA (Certified Registered Nurse Anesthetists) program and the need to train in anesthesia. He covered multiple aspects of the operating room including all the necessary clinical equipment from the design phase to troubleshooting when needed. He set up a space for the students to practice surgical skills using surgical simulators.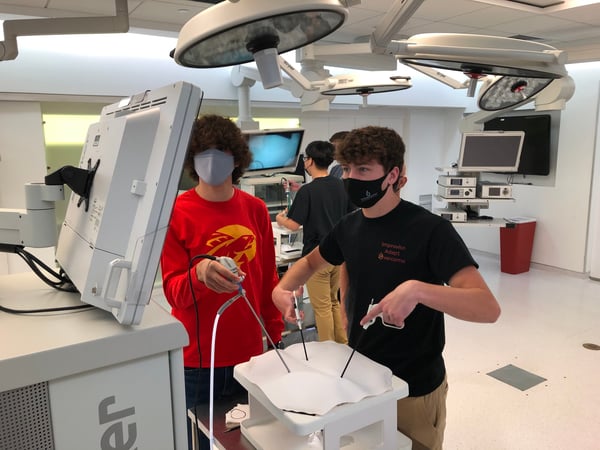 STATION 2
Thomas Jackson, Simulation Specialist II, had his groups working with task trainers used to practice advanced clinical skills such as airway management, chest tube placement and central line. He talked through the different skins CAMLS uses for realism as well as the creation and design process used to build each trainer.
STATION 3
Michael Hale, Simulation Specialist I, had SimMan 3G running to showcase what CAMLS does in Healthcare Simulation. He worked through what happens in the control room all the way to the clinic room. Students were able to do chest compressions, change vitals, speak for the mannequin and see/understand the internal workings of the hardware.