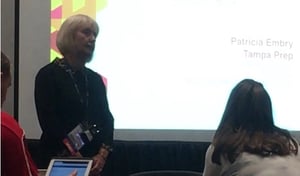 This past week Pat Embry, Tampa Prep's Associate Head of Middle School and Mathematics Department Chair, spoke at the National Council of Teachers of Mathematics Regional Conference in Boston. As a leader at Florida's Most Innovative School, it is no surprise that Embry's presentation, Students Create: Authoring an Interactive Algebra 1 Resource Book, was part of the Technology track at the conference.
A few years ago, Tampa Prep's administration challenged academic departments to give final exams on a rotating basis. When not giving a final exam, the department was instead to assign a cumulative or summative assessment. Students were allowed to use their notes, screenshots, or videos of themselves explaining each topic and demonstrating their knowledge of different concepts. "If you can explain something, you know how to do it," Embry says. "It took on a life of its own."
The assessments essentially became self-published iBooks, created by each student, that they could refer back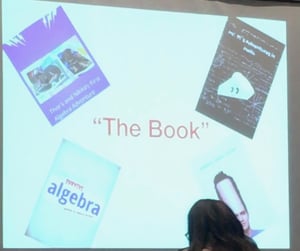 to and review. Students illustrated their books using their own images and illustrations, and were encouraged not to have too many citations. "I don't want them searching the Internet, I want them to use their own pictures," Embry says. "Every book has a different theme, something like, Reggie Goes Through Algebra."
It's expected that students are going to forget some math concepts throughout the years, but the reality is that they're going to need them for future success. "So with these books," Embry says, "your past self can remind your future self how to do it. It's like a time machine. Now when I walk the upper school halls and I see former students they'll say 'Hey Mrs. Embry, I read the [resource] book!'"
Embry understands that not all schools have iPads for every student, but all schools do give exams. Thus, this concept still has applications in any classroom by encouraging students to make and share their own educational videos or podcasts on how to solve their own problems.