For the past four years, ninth grade World History teachers have assigned a research project that encouraged students to go beyond with a higher purpose than self.
The "History for Global Change" assignment challenges students to identify a social or environmental problem, complete a research paper about the issue, and then complete an action step in which they become change agents.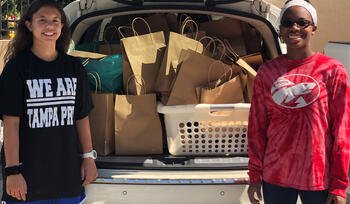 Sarah H., with the help of her classmate Satty B., collected donations and assembled family food and toiletry bags for the Ronald McDonald House to help families whose children were getting treatment for cancer.
Working in small groups or individually, students choose a topic, identify someone who is currently involved in making positive change, and make their own action plan to help. Through this process, students become connected with community organizations, learn valuable communication and organizational skills, and begin to live our school mission of living with a higher purpose than self.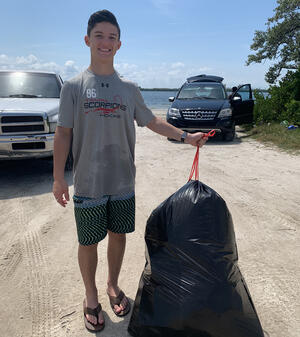 Nick O. tackled the issue of aquatic pollution. As part of his action step he did a beach cleanup.
Their research and actions, presented to their classmates, is the final component of a broader curricular focus on teaching the importance of understanding history as the story of all people, not just as a series of events