Junior Yammile B. knew Tampa Prep was the school for her after spending a summer on campus at robotics camp in middle school.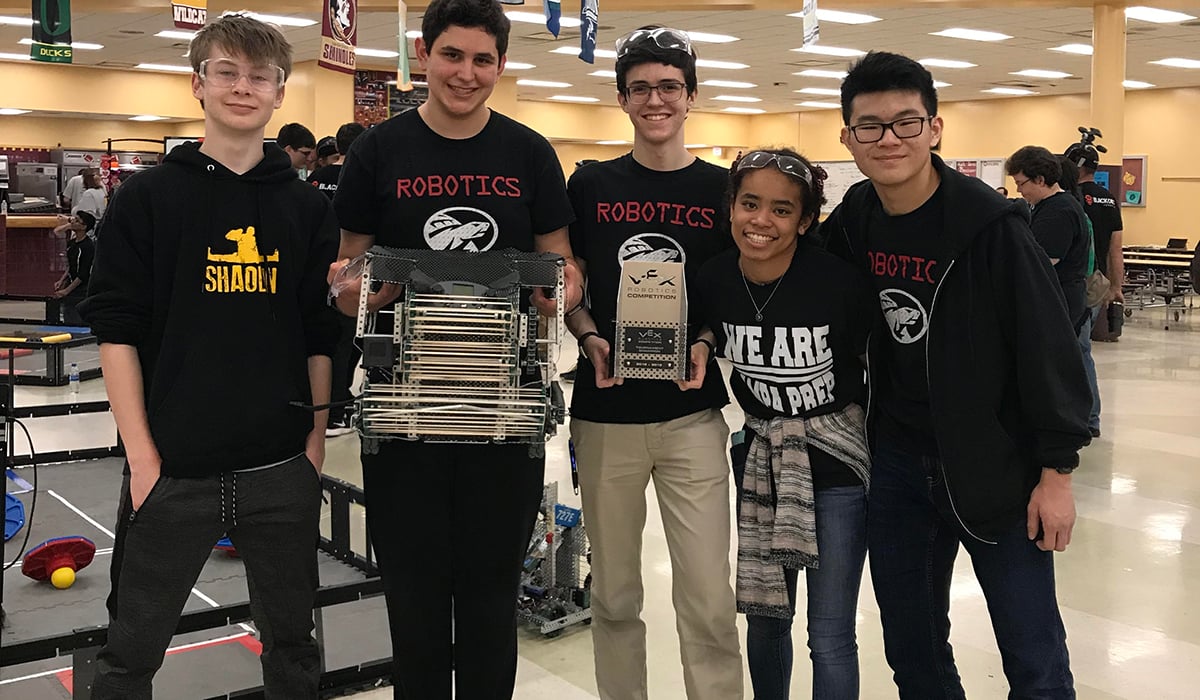 Yammile (2nd from R) says VEX is getting consistently more competitive each year, but in the robotics shop on campus her team has all the tools they need to repair and refine their robots, which must be engineered, built and programmed to complete certain tasks. To practice the tasks, students take their machines to the game area or "field," giving them the opportunity to hone their skills in a competition setting. But just as important as building robots, the students are building camaraderie.When she later started at Prep as a freshman, Yammile ran right to the robots. Now, she is one member of a five-person team that is headed to the upcoming VEX Robotics Competitions' state championship in Miami.
"We always have a lot of fun up here," Yammile says with a smile before getting back to work on her latest project, a device that sorts marbles by color.
But it is far from all fun and games. STEM Instructor KK Quah says any victory for a VEX team comes after hours of diligent work in the shop, making the space an invaluable resource for the hardworking robotics students.
And with all the hard work required, Quah is always happy to see students succeed."It's very helpful to have this kind of shop," he says. "The students are very comfortable, and they can learn a ton of problem solving."
"They certainly put in a lot of effort, and I am proud of what they make happen up here and in competition," he says.
Out of five total Tampa Prep VEX teams that competed at the regional level in February, three teams are proceeding to the state competition on March 2.