As I write this, I can't help but feel that our kids would be better prepared for a zombie
apocalypse
. All those online games could really come in handy. As I write this my boys are locked in their rooms saving the world with their friends. Unfortunately this doesn't make me feel so good about my parenting skills, but what the heck, I have already consumed their Easter candy so Parents R Us won't be calling me anytime soon. I was asked what my family is doing to make it through the day. So here goes nothing:
WELCOMING YOUR COLLEGE KID HOME EARLY
My eldest son came home from Rollins College nearly two weeks ago knowing that he would not be going back for the rest of the school year. We packed him up and had to find space in our small bungalow for all his gear. The upside is that it appears that college kids hoard toilet paper and scrubbing bubbles. The latter I have no use for, however, the toilet paper was a boon.
Jack graduated from Tampa Prep in 2019, and between hurricanes, vacation days and now the coronavirus, I feel like he never left. The good news is that
Tampa Prep
really prepped him for college, and he has come home able to wake himself up and just get on with it. He was dubious about how this new way of learning would go, however, after his first virtual college class on Monday, he has been a lot more positive, even seeming to enjoy his new way of life. He misses his friends, so after class he stays online to chat with some of them and they are already planning their room assignments for next school year.
HOW THE HIGH SCHOOL KID IS GETTING ON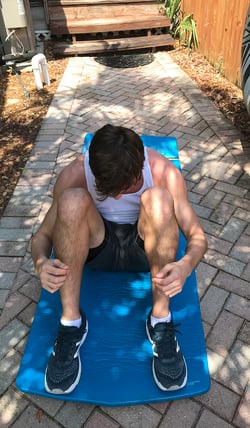 My youngest is a junior at Tampa Prep, and misses his friends and the wrestling team. He keeps in touch with them through texts, talking on the computer and cell phone. He made a makeshift gym in the backyard using a pool mat and some hand weights to ensure that he won't be too far behind in fitness when he starts wrestling in the summer. His room is set up already with three screens (yes you read this correctly) on his desk so I am not concerned with a study area. It is the same place he has studied all year.
NEW WORKING RELATIONSHIPS
I run a booth in Ybor city at a place that sells vintage and repurposed items. My husband is now sharing a room with all those items while they wait for their home to reopen. He leaves us at 8:00 a.m. and goes to 'work' only coming out for lunch until the day ends at 4:00 p.m. Staying in place isn't easy for him, as a usual day at work consists of a lot of interaction, but he is making it work because the alternative is no work.
As for me, I ran out of things to work on for the booth having spent all last week painting, waxing and cleaning. I was a little too enthusiastic and now have nothing left to work on. Now I am turning to books having just read

Educated

by Tara Westover (brilliant) and cooking up a storm so that if I catch the virus my family doesn't get to feed me hot dogs and pizza for every meal.

THE IMPORTANCE OF A VIRTUAL COMMUNITY (FOR SANITY)
I am also lucky in that I am part of a group text that consists solely of 11th grade moms with boys and girls at Tampa Prep. It started last year as a way to stay informed and discuss various kid-related topics.
This group is great as it has
allowed us to know when something is coming up, find out about SATs, share experiences etc. Lately this has been good for us as we get to take turns at being the one to spiral while others take turns at being the voice of reason. No one wants to be that "crazy mom", and this group keeps us in check in the best way possible.
These women are a mix of some I know well and others with whom I just have a passing acquaintance. There are 13 of us in all which really does help to keep the crazy at bay. There are numerous discussion daily and even though we all receive the messages, we don't feel the need to contribute all the time. It is just nice to know there are others out there. As I write this, my phone is blowing up with news that an email has been sent to our kids from Mr. Carlson and Mr. Fenlon. Needless to say they are happy and have questions. As usual we will chat our way through to our own satisfaction.
I am still in touch with a group of moms from last year who, like me, had a senior graduating. We have stayed in touch, gone out for the occasional meal and, although our kids all go to different colleges, it has helped us with the transition.
BE GRATEFUL
Finally, if I may say one thing, it is this: be grateful. Yes, I get how irritating that sounds, it is up there with "don't be mad" and "shhhh". Really, be grateful – our kids go to Tampa Preparatory School, and if our kids must work from home then there is no better school to run the program. I mean this, be grateful. Stop doubting and just wait, be quiet and calm and wait. I get that as a parent we want to see what this new style of teaching/learning is going to look like, but it takes time to do it right. I don't care what other schools are doing at this time, I trust that when Tampa Prep gets its online learning platform up and running, my junior will get everything he needs.
I hate that we have seniors who are missing out on all those last times, I hate that my junior is yet to take an ACT or SAT, I am sad that our kids can't see each other in person. That said, I have faith in our school, having watched a bumbling sixth grader with all his idiosyncrasies blossom into this man who came home from college two weeks ago able to handle this crazy world we live in. For that I will be eternally grateful for Tampa Prep.
These words mean everything, now more than ever - GO PREP!
-- Garda Collison, mom to Jack '19 and David '21