As part of our mission, Tampa Prep students "go beyond" on a regular basis. Our annual Terrapin Service Day gives students yet another opportunity to experience firsthand the school's mission of "a higher purpose than self." On a designated day each winter, students stretch beyond campus borders to volunteer at various organizations throughout the community. Each grade level takes on a different cause as a group, and spends their day devoted to the organization or task.

Obviously, just one day isn't enough to make an immense impact, but what frequently happens when students are introduced to an organization, project or group of people for the first time through Terrapin Day, is that they fall in love with the experience and continue the relationship with the organization long after Terrapin Day is over. Some even engage their parents and siblings in their volunteer efforts as well. Terrapin Day is a wonderful starting point for a lifetime love of service and philanthropy. Below are some student reflections on our recent Upper School Terrapin Day.

Caroline Goldstein - 10th Grade
Terrapin Day is by far one of my favorite days of the school year. This year, RCMA, a school for the children of migrant workers, came to Tampa Prep and spent the day with us. We did different activities, games and face painting with the kids and created bonds and connections that were unique to each and every kid. Every RCMA student was eager to participate and try new things and every Tampa Prep student was ecstatic to help. By the end of the day, nobody wanted to leave and the feeling of love and joy filled the gym from corner to corner. Every upperclassman always talks about RCMA as the best Terrapin Day, and I can finally understand why they say that. I learned more about our community and the struggles migrant workers face every day, and I got to create unbreakable bonds with kids that I would have otherwise never met. Not only was Terrapin Day educational, but it was an experience that I am so thankful for.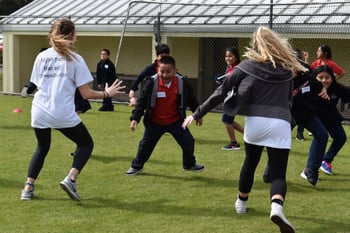 Jayden Capella, 11th Grade
For Terrapin day this year I went to Potter Elementary School. When we arrived we were separated into groups of two, with each pair going to a different class. To my delight, I was assigned to a class of third graders. Immediately upon entering the room, I could feel their excitement. Their faces lit up with wide smiles. I knew from that moment it would be a fulfilling day. We spent our time at Potter helping out in the classroom and interacting with the kids. By far my favorite part was asking about the students experiences at school. When asked, every student told me they enjoyed going to school, and they said they loved learning about subjects like science, math, and music. It brought me genuine joy to see their excitement for learning. At recess we went out to play with the kids and I was bombarded by children begging me to play with them, another touching moment. As a whole, I feel like Terrapin Day was an educational experience and I felt inspired to volunteer more in my community.