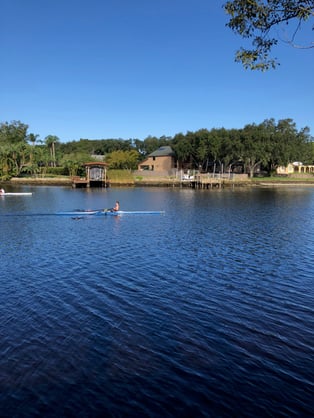 COVID protocols and safety measures have called for student athletes across the nation to adjust their traditional training and play. For the Tampa Prep Crew Team, rowers have had to completely relearn their sport. Currently, due to FHSAA rules, rowers cannot race in anything more than a double. For those adapting to a single this means starting at square one with training.
However, under the amazing guidance of Coach Rob, Coach Chris and Coach Sarah the team was up for the challenge, and it showed this past Saturday at the Headless Oarsman Race Regatta where the team competed against Academy of the Holy Names, Berkeley, Hillsborough HS, Tampa Catholic and club Team Tampa.
Meagan Lukavec '21 placed 1st in the Women's Varsity Single and Keegan Brown '22 placed 2nd in the Men's Varsity Single.
Huge shout out to our Tampa Prep Rowing team for their efforts in the first competition of the year. Go red, go gold!