Tenth through 12th grade students finished their semester-long Emergency Medical Response course with a mass casualty scenario.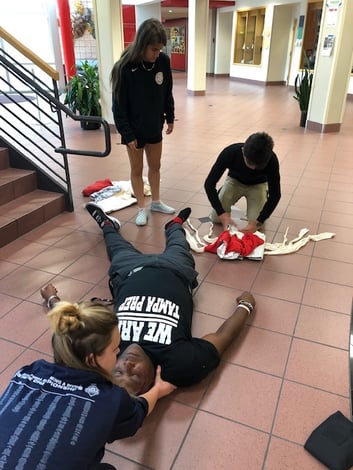 Throughout the semester, students have learned the necessary skills to help sustain life, reduce pain, and minimize the consequences of an injury or sudden illness while awaiting or assisting higher-level personnel at the scene.
This week, students used the knowledge they learned this semester when they were called to be first responders to a mass casualty scenario involving three faculty members. Due to students' quick response, all three faculty members recovered from the mock injuries.
Kevin Plummer (Head of School), Chris Lavoie (Athletic Director), Melanie Rodriguez (Business Office Assistant) and Frank Fren (Maintenance Crew) were great patients. A special shout out to Lauren K. '19 for her amazing makeup artistry that made the fake injuries look so real!