On Friday, October 2, Marine Biology students had a visit with real-world marine scientist Dr. Julie Huber. Dr. Huber told her story of growing up in the land-locked midwest before pursuing her undergraduate degree at Eckerd College in St. Petersburg, Florida and graduate work in Washington state, before settling in Cape Cod, Massachusetts at Woods Hole Oceanographic Institution.
Students saw how diving in submersibles and using remotely operated vehicles have allowed Dr. Huber to explore unique deep-sea ecosystems called hydrothermal vents (pictured below). These habitats are thousands of meters below the ocean surface and rely on unusual substances like methane and sulfides as a primary source of food. It is completely dark and water temperatures range from about 350 degrees C where hot, volcanic water escapes from the seafloor to about 3 degrees C just a short distance away. Bacteria thrive in these areas and provide the base of the food chain for unique shrimp, fish, and worms. Single-celled organisms, like these bacteria, represent the majority of life that has existed on earth. Studying these organisms has led to collaboration with NASA scientists who are studying oceans that can be found on the moons of Jupiter and Saturn and seeing if life could develop in places other than Earth.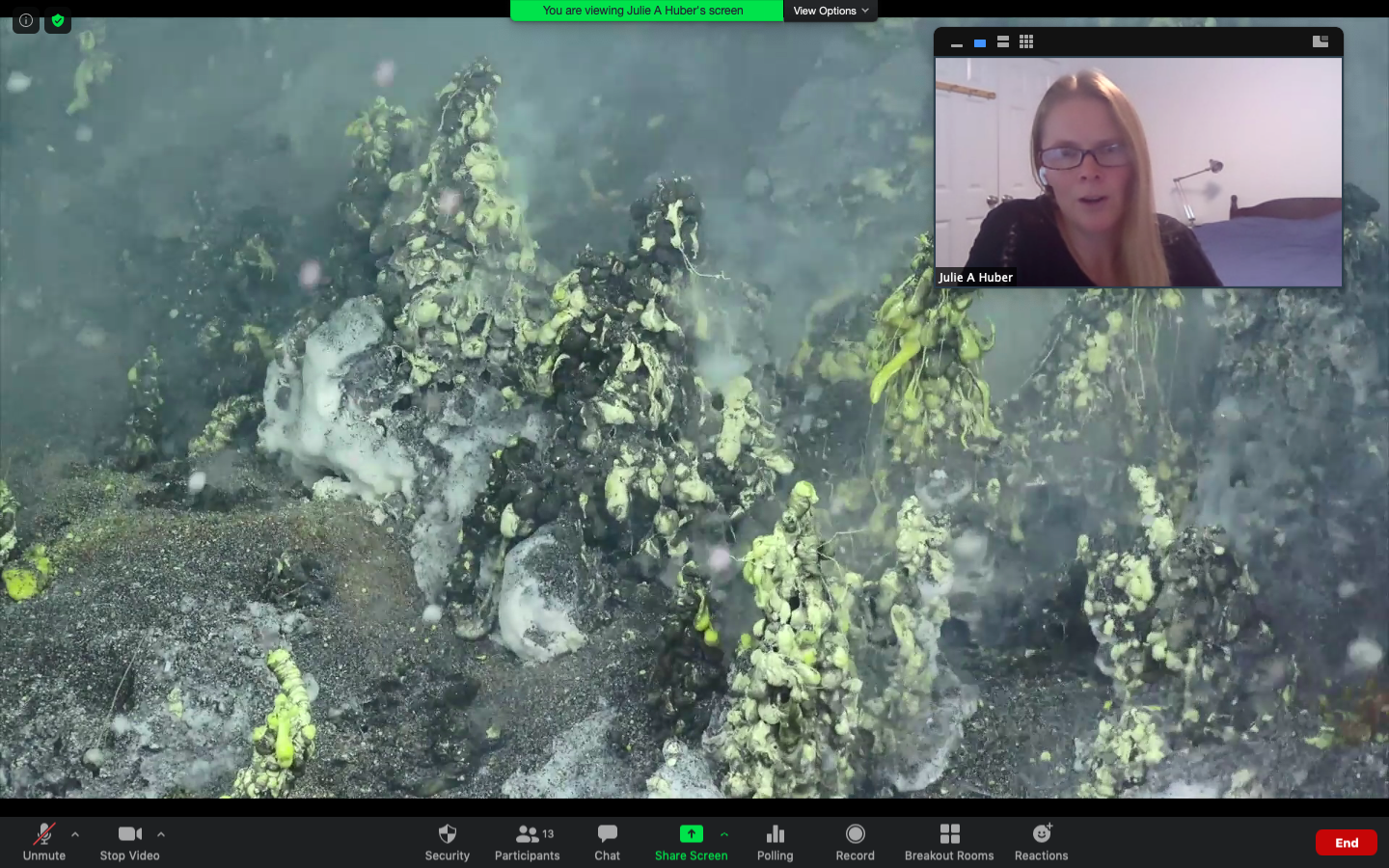 Since the start of the pandemic, Dr. Huber has not been able to get out into the field and her opportunities to do lab work have been limited. She has mostly been trying to work from home and spending time with her two children. Some of the work that she has been able to accomplish has included scientific writing and grant proposals, and she longs for the time when she will be able to get back to her "real" work.
Beyond research, she is a mentor to budding scientists through an internship program at a local college and participates in community outreach, including having been a guest on the science podcasts of Neil deGrasse Tyson and Bill Nye. Students had the opportunity to ask questions about her role in increasing diversity and inclusion in science, links between climate and the deep-sea, and the paths of other scientists that she works with.