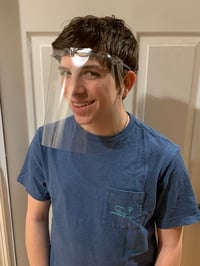 Sophomore Ryan Kelly has been busy making a difference from home these last few weeks. He has been using his 3D printer to make face shields for local health care workers and those in other essential industries. Fifty of his face shields were donated to St. Joseph's Hospital in Tampa for the nurses on the COVID ward. He donated several to a local doctor for his office staff, and about 20 to local Publix supermarkets for their employees.
When asked how he got the idea to do this, Kelly said, "I really wanted to be able to help out my community during the coronavirus, and I saw several popular 3D printing YouTubers who were 3D printing these face shields. Also, the company that I got my 3D printer from, Prusa3D, had posted in their newsletter how they had converted their factory from making 3D printers to creating these face shields that they then donated to the Czech Republic. I didn't actually create the model of the shield, I used one that is being widely used across the 3D printing community."
We applaud Ryan for living the Tampa Prep mission by thinking, creating, being himself, aspiring to excellence and going beyond!