Casey Kittredge and Oscar Geisz have made quite a name for themselves this year as two seventh grade boys offering free math tutoring to their classmates. Recently, we interviewed the boys to hear more about their initiative.
WHERE DID THIS IDEA ORIGINATE?

Casey - Math is my favorite subject. I like them all, but math stands out. I was trying to offer tutoring by myself outside of school, you know, on websites if people were requesting help. Then I had the idea that I wanted to start at school. So I made the announcement, and after assembly Oscar came up to me and asked to join.
Oscar - I knew I had to be a part of it because I wanted to display my passion for math.
Casey - I was also inspired to do this because in fourth and fifth grade I went to Mathnasium and I thought it was really fun. But in middle school I couldn't continue there because I didn't have enough time, so I kind of said, "Why can't I help other kids as well? Do the same thing [Mathnasium is] doing?" I'm inspired by their methods.
Oscar - We figured most people needed math help most, so that's what we've advertised. We make an advertisement every week at assembly to keep people informed.
Casey - But if someone needs help in science or reading, we can help with that too. It doesn't have to be math.
WHEN DO YOU OFFER TUTORING?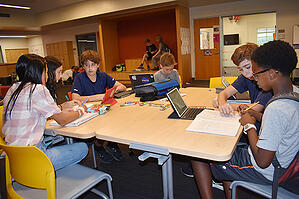 Casey - On paper, we're math tutors who stay at school from 3:30 - 4:15 p.m. on Thursdays, but really we can help kids with any subject any time.
Oscar - We can go until 4:30 p.m. if someone is staying later. We chose Thursday as the day because Friday is a popular test day so we figure that would be good to get extra practice in right before a test. Also, to help lessen homework load on the weekend.
Casey - We've got sixth graders and seventh graders coming. It's been really fun because not only are we helping people, but some of my friends have volunteered to be helpers as well, so it's not just us.
WHAT'S THE BENEFIT OF PEER TUTORING FOR OTHERS?

Casey - Sometimes it's intimidating to go in a teacher's office [to ask for extra help]. You may not want to disturb them. We try to make it fun, and since we're the same age you won't be as scared.
Oscar - We realize people might not want to admit they need extra help so we offer them things to entice them to come.
Casey - Yes. After the first week we decided to mix it up to make it more fun so we added some games and snacks as well.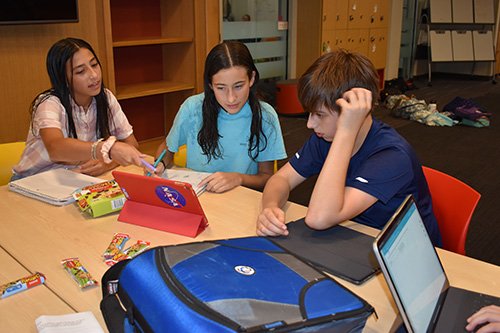 WHAT'S THE BENEFIT OF PEER TUTORING FOR YOU?
Casey - I've gotten to know Oscar so much better. We do Cross Country together, and he was just another kid on the team at the beginning of the year. But now I connect with him more.
Oscar - It also helps us make friends with people who come for help; to know that they care about things we care about, and want to do well. If we make it through the first semester we'll keep it up for years to come.