NOTE: Tampa Prep is still looking for Upper School boys to host German exchange students October 17-24, when the Hochrad School Sunshine band returns to Florida--a nearly 30-year tradition! All families are welcome to host. No special setup is needed, just an open mind and an open heart! For more information, contact Mrs. Pereira lpereira@tampaprep.org
I studied Spanish and Japanese in high school, but one summer the French teacher was looking for families to host exchange students. I had always enjoyed meeting my neighbor's exchange students. They had a new exchange student every year and each fall was an exciting moment for me to learn where the new student was from and make a new friend: Wakako from Japan, Leticia from Spain, Karolina from Finland. This time it was my turn to host my own exchange student, so I told my mom about the opportunity to host a French student for one month over the summer. My brother had just moved to college, so his room was empty, it was the perfect setup. My mom was really concerned because we didn't speak French, but the French teacher assured us that the student would speak English.
A few weeks later, Sophie arrived from the south of France. It just so happened to be one of the hottest summers on record in the state of Virginia and my family didn't have air conditioning in our home, just fans. Sophie ended up bunking with me in my room, because it was on the cooler side of the house. So much for the perfect setup--we were squeezed into my 8'x8' room. Poor girl, she really did sweat it out with our family that summer. At first, it was really difficult to speak to each other. Her English was actually not very good, and I spoke no French. However, our language of communication became our similar likes and hobbies. Quickly we realized that we both loved several things in common: Wimbledon, playing cards, cucumber sandwiches and bike riding. It was the basis for an excellent linguistically minimalist experience; no talking, just watching, playing, eating and pedaling.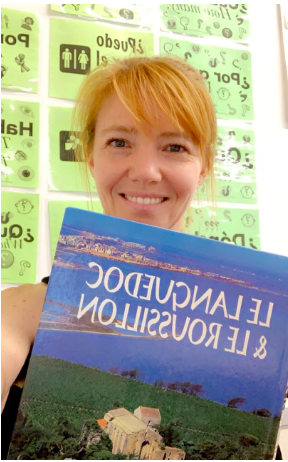 Of course, soon enough, Sophie's English improved and she become more comfortable with our family. However, more importantly for me, was that my curiosity for France--particularly for the south of France where Sophie was from--began to grow throughout her stay. She had brought with her a gift for my family, a book, which I still have in my classroom here at Tampa Prep. I became fascinated with the book. It was a large format picture book of little southern French villages. I could just imagine myself in those little villages. As it turned out, two years later, when I went to college and the opportunity arose to study French, I thought, "Pourquoi pas?" and then before I knew it, I was living in Sophie's beautiful southern France, in Languedoc-Rousillon, just like in the picture book. I had unfortunately lost contact with Sophie (this was in the "dinosaur age," long before Facebook, and even before email really). However, she had left her mark on me all the same. Her visit had transformed much more than her language skills; it had changed the direction of my life.
Sometimes an expected guest brings unexpected results. Hosting an exchange student is easy to do when you are open-minded and curious to learn about someone and someplace new. You overcome the little road bumps, the language barrier, the imperfect rooming conditions, the sweltering heat, and any other hiccups, because you are sharing a memorable experience with someone who will have a unique place in your heart, your family and in your memories. If you are interested in hosting an exchange student this year at Tampa Prep, we are still looking for Upper School boys to host German exchange students October 17-24, when the Hochrad School Sunshine band returns to Florida--a nearly 30-year tradition! All families are welcome to host. No special setup is needed, just an open mind and an open heart! For more information, contact Mrs. Pereira lpereira@tampaprep.org