Every year, Tampa Prep students partake in a day of community service, called Terrapin Day. Each grade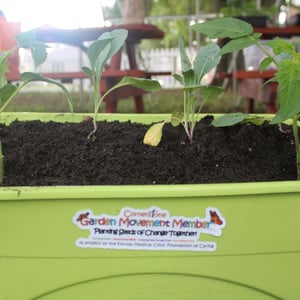 volunteers somewhere new every year, at places such as at-risk elementary schools, Metropolitan Ministries, Meals on Wheels, and more.
I've been at Tampa Prep since the sixth grade, and every year I get an even better experience. This year, I had the privilege of spending my senior Terrapin Day at the Cornerstone Ministries Community Garden. This garden grows a ton of fruits and veggies, and the program teaches kids about the importance of where food comes from, as well as providing meals for the children. I wasn't exactly sure what to expect when my advisor told me I'd be "harvesting", but I ended up having so much fun. We learned all about composting, planting, and harvesting. It was a lot of work, but we were able to help them make real progress in cleaning up the garden.
My favorite part of Terrapin Day is hearing that we made a difference. After we were finished, the people who managed the garden told us that we had just helped them with a week's worth of work, and that they were thankful we came. That's what Terrapin Day is all about. Even if it's just one day of work for you, collectively, we are making a difference and making the lives of others easier.